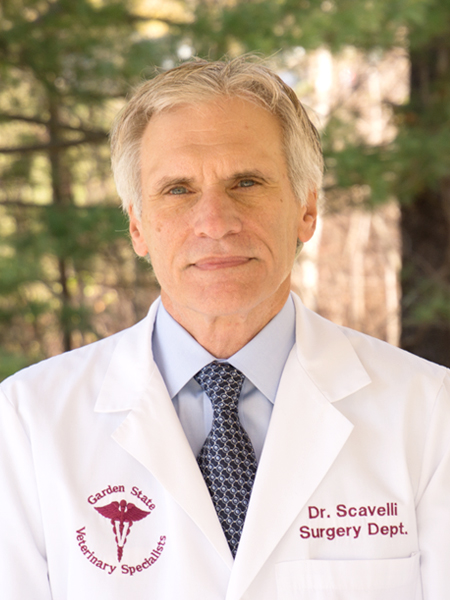 Dr. Thomas Scavelli is the Founder and Director of Garden State Veterinary Specialists. He is a 1982 graduate of The New York State College of Veterinary Medicine, Cornell University. Following…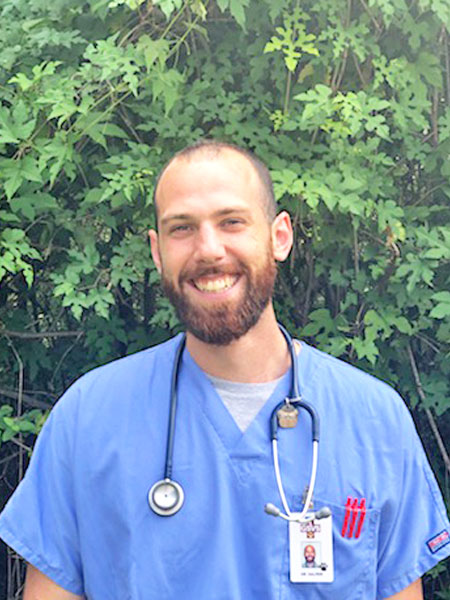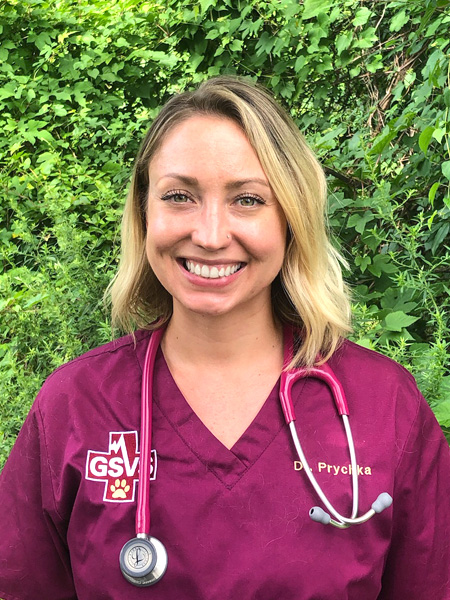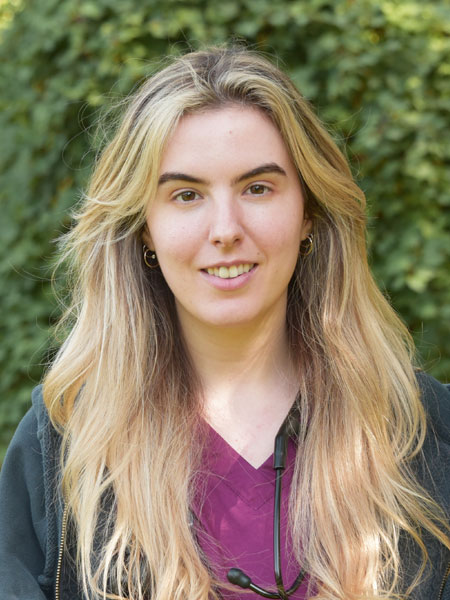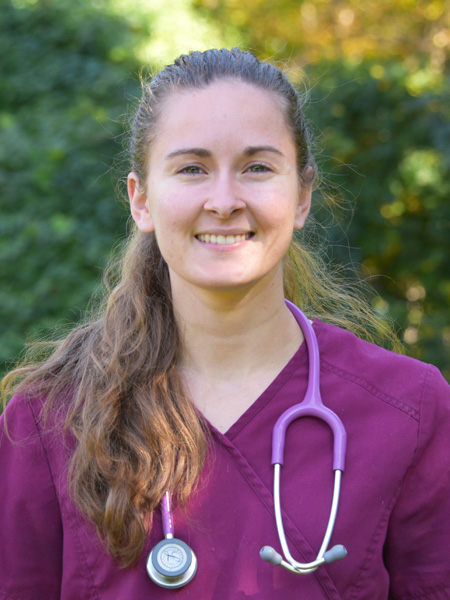 Itsaso Kobayashi, DVM
Vincent Nicoletta, DVM
Surgery at GSVS
The GSVS Surgery Department accepts referrals on orthopedic, abdominal, reconstructive, thoracic, and neurosurgical cases. GSVS Surgery appointments are seen 7 days a week, excluding holidays. Consultation appointments will consist of review of your pet's clinical history, physical examination, and recommended diagnostic testing and treatment plans. If surgery has been recommended, it may be scheduled for that same day or for the next available surgery date.
GSVS offers comprehensive surgical treatment options in the following areas:
Orthopedic Surgery
Arthrodesis
Cranial cruciate ligament injury/stabilization (Tibial Tuberosity Advancement (TTA), Tibial Plateau Leveling Osteotomy (TPLO), Lateral Suture Technique)
Fracture repair (internal fixation, external fixation)
Surgical disorders of the hip
Open and closed reduction of hip luxations
Total hip replacement
Femoral head and neck ostectomy (FHO)
Triple pelvic osteotomy (TPO)
Patella luxation stabilization
Surgery of the paw and ankle
Minimally Invasive Surgery
Arthroscopy
Laparoscopy
Thoracoscopy
Soft Tissue Surgery
Thoracic:
Lung lobectomy, Pericardectomy, Persistent right aortic arch, Patent ductus arteriosus occlusion, Thoracic duct ligation
Abdominal:
Gastrointestinal surgery, Urogenital surgery, Portocaval shunt ligation, Intraabdominal masses, Gastropexy
Perineal:
Hernias, Tumors
Head and neck:
Brachycephalic airway disease, Laryngeal paralysis, Thyroid and parathyroid tumors, Surgical disorders of the salivary glands, Intraoral tumors, Mandibular and maxillary tumors and fractures, Ear canal and bulla surgery
Reconstructive:
Traumatic wounds, Large tumor removals, Limb amputation
Neurosurgery
Intervertebral disk disease,
Spinal fractures
Regenerative Medicine
Platelet-rich plasma (PRP) therapy
Stem cell therapy
Total Hip Replacement FAQs
Q) What is a Total Hip Replacement?
A) Total Hip Replacement (THR) is designed to eliminate the source of discomfort by replacing the arthritic hip joint with an artificial joint. Replacement of the hip joint is a state-of the-art procedure, very similar to the procedure in humans. The arthritic femoral head and neck are removed and replaced with a metal implant made of cobalt chrome and titanium. The arthritic socket is removed and replaced with a plastic cup. Both components are held in place with sterile bone cement. The metal head and plastic cup fit and function like the original ball and socket joint providing pain-free, mechanically sound function.
Q) Why a Total Hip Replacement?
A) A Total Hip Replacement is performed as an optimal means of relieving pain, improving hip function and allowing your dog to return to an active lifestyle. The arthritic joint is replaced with the implant resulting in elimination of the pain of bone rubbing on bone in the arthritic joint. The decreased range of motion associated with the arthritic joint is corrected allowing a good range of hip motion.
Q) Is my dog a candidate for a Total Hip Replacement?
A) If your dog is over 12 months of age and weighs more than 45 pounds and has clinical signs associated with hip arthritis or dysplasia, or has had a traumatic hip luxation, your pet is a potential candidate for a hip replacement. A thorough examination to rule out other orthopedic or neurologic problems is always an important part of the pre-operative examination.
Q) Are there alternative surgeries to Total Hip Replacement?
A) Yes, a femoral head and neck osteotomy (i.e., removal of the ball part of the joint) can be performed as an alternative procedure. The ball part (femoral head) is removed allowing a "false-joint" to form. Eventually, new tissue fills in between the bones allowing support and function of the limb. This surgery has a variable success rate with 20-25% of owners reporting low grade persistence of limping or trouble jumping. The procedure is not as optimal as a hip replacement, however, results overall are satisfactory to good.
Q) When should the surgery be performed?
A) Surgery to replace the hip joint is recommended when pain or limping are present. Radiographs of the hips are performed to confirm the diagnosis of degenerative arthritis. Surgery is generally recommended if conservative therapy via pain medication is not adequate in relieving the degree of limping or pain associated with the arthritis.
Q) Should both hips receive a Total Hip Replacement?
A) Only one hip can be done at a time. The most painful hip should be replaced first. If pain is present on both sides, both sides should be replaced. The interval between surgeries is at least three months, however, over 80% of dogs do not need a second surgery despite the presence of arthritis in the other hip.
Q) What do dogs go through to get a Total Hip Replacement?
A) The surgery takes 90 to 120 minutes. They are under continuously monitored isoflurane general anesthesia. Vital parameters, such as heart rate, heart rhythm, tissue perfusion, respiratory rate and pattern, temperature and blood pressure are monitored. The surgery is performed with extensive precautions to prevent infection. Much attention is paid to preoperative preparation of the patient, instrument preparation, aseptic technique, and environment control in the operating room. Pain medication is administered preoperatively and maintained as long as needed. The patient is hospitalized with 24 hour patient care. Most dogs routinely support some weight immediately postoperatively. They are generally released from the hospital in the second postoperative day.
Q) What is the aftercare associated with the surgery?
A) Exercise restriction (i.e., no running or jumping) must be followed for two months following the surgery to allow all tissues to heal around the implant. Vigorous activity is to be avoided during this time period.
Q) How do dogs feel with a Total Hip Replacement?
A) Most dogs walk on their new hip immediately after surgery. Most pet owners report their dog's personality improves and that their dog feels great. Gradual return to normal function is allowed between 8 and 12 weeks after surgery. A long-term study found THR to be a very effective method of treating disabling conditions of the canine hip. The majority of dogs displayed marked improvement in walking, sitting, climbing stairs, standing, running, getting into the car, playing, and exercise following surgery. THR's have been performed in both pets and working dogs with equal success.
Arthroscopy FAQs
Q) What is Arthroscopy?
A) Arthroscopy is an established procedure that allows veterinarians to diagnose 
and treat a multitude of joint diseases. Because arthroscopy requires a smaller skin incision and creates less surgical 
trauma compared to an open approach, 
it provides substantial advantages. Improved joint observation with magnification, less tissue disruption, reduced scarring and a faster return to function are all reported benefits. At Garden State Veterinary Specialists, we offer arthroscopy for a wide array of diseases.
Q) What is Osteochondrosis
 Dissecans (OCD)?
A) OCD is a disorder of endochondral 
ossification that typically affects immature 
medium to large
breed dogs.
Although the
exact cause is unknown, diet, genetics, growth 
rate, trauma and endocrine imbalances have all been implicated. Abnormal thickness of cartilage leads to fissuring and separation of a cartilage flap. OCD can be found in the shoulder, elbow, stifle and hock joints. Arthroscopy can be a minimally invasive way to explore a joint to make a diagnosis, and if an OCD lesion is encountered, the flap can be removed during the same procedure via arthroscopic assistance. Although arthroscopy does involve general anesthesia and several 1/2cm skin incisions, it can ensure a 100% success rate in the diagnosis of OCD, and allows for a minimally invasive treatment that otherwise would require a large open approach.
Q) What is Elbow Dysplasia?
A) Fragmented Coronoid Process (FCP) is part of a larger disorder known as elbow 
dysplasia. It typically affects medium to large breed dogs between 5 and 10 months of age and is more common in males. Dogs with FCP typically present with forelimb lameness at a young age, but radiographically, the disease is often not apparent until 7-8 months of age. FCP 
fragments can be hard to see 
radiographically and tentative
diagnoses are often made based on degenerative changes, coupled with clinical pain during elbow manipulation. Arthroscopy can be used to allow definitive
diagnosis of the disease. Once a 
fragment is identified with the arthroscope, it can be removed 
concurrently.
Q) Cranial Cruciate Ligament
 Rupture/Medial Meniscal 
Injuries:
A) Cranial cruciate ligament rupture is one of the most common orthopedic injuries in dogs. Although dogs 
of all sizes can be affected, medium to large breeds are 
over-represented. The ligament can tear acutely or 
chronically, and once torn leads to instability of the 
stifle joint. Although dogs with complete cruciate 
ligament rupture are relatively easy to diagnose, partial tears can be a diagnostic 
challenge. Dogs with partial 
ligament tears can present with moderate to severe chronic 
lameness but often lack 
instability on evaluation. In these dogs, arthroscopy can 
be used to diagnose a partial 
ligament tear prior to complete rupture and allows intervention at an earlier
stage of the disease. As well, menisci can be evaluated 
arthroscopically and if a tear is noted (Figure 4), 
the torn portions can be removed via arthroscopic 
assistance. Once a diagnosis of cranial cruciate 
ligament rupture is made, arthroscopic assistance can be used to remove the torn ligament, to address the menisci (if applicable), and to minimize exposure to the stifle joint regardless of method of stabilization. Arthroscopic assistance can minimize the invasiveness
of most stifle stabilization procedures including nylon, TPLO and TTA repair, while allowing a 
quicker recovery.
Q) Other Indications:
A) Other indications for arthroscopy in veterinary 
medicine include, but are not limited to, diagnosis and treatment of bicipital tenosynovitis, shoulder instability, ununited anconeal processes, evaluation of intra-articular fractures, and exploration of any joint in which a minimally invasive approach is desired. 
If any further questions regarding possible arthroscopy for orthopedic patients arises, please do not hesitate to call the surgeons at Garden State Veterinary Specialists.
Many pets require postoperative hospitalization. Postoperative care and surgical emergency coverage are provided 24 hours a day, 7 days a week. The GSVS Surgery Department consist of board certified specialists, residents, interns, and surgical technicians. The care and comfort of your pet during their postoperative recovery is of our utmost priority, and we will provide comfortable bedding, litter boxes, and/or walks during their stay at the hospital. The hospital is staffed 24/7 and your pet will never be without supervision.