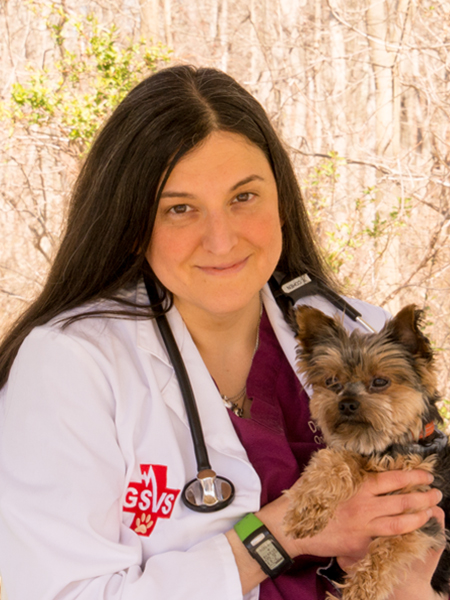 Dr. Michele Cohen graduated from Brown University in 1995 and from the College of Veterinary Medicine at Cornell University in 1999.  She completed her internship in small animal medicine and…
Oncology at GSVS
Oncology is the branch of medicine that deals with the prevention, diagnosis and treatment of cancer. Veterinary oncologists are highly trained specialists that are involved in the treatment of pets diagnosed with various cancers. Hearing that your loved companion has been diagnosed with cancer is devastating but our oncologists are here to help guide you and your family in making the best short and long term decisions. We strive to take a team approach involving our doctors, your pet's primary care doctor, your pet and you to make the most reasonable recommendations on your pets care with quality of life being our primary focus.
Our oncologists work in tandem with your pet's primary care veterinarian to treat an array of cancers including:
Lymphoma
Hemangiosarcoma
Osteosarcoma
Mast cell tumors and other skin tumors
Tumors of the endocrine system
Tumors of the central nervous system
Many other types of cancer/neoplasia
A diagnosis of cancer does not have to mean a death sentence. Many patients diagnosed with cancer can lead happy, healthy lives while undergoing treatment. There are many options that can be considered depending upon the diagnosis and we are here to help!
The GSVS Oncology department offers:
Chemotherapy
Radiation therapy, including intensity modulated radiation therapy (IMRT) and stereotactic radiotherapy (SRT)
Immunotherapy, including Merial Oncept melanoma vaccine
Wide array of other therapies for cancer patient
If surgery is indicated, our Surgical Department is well equipped to handle all types of surgical oncology.
Garden State Veterinary Specialists has been utilizing radiation treatments for their cancer patients since 2002. We are a complete imaging and treatment center specializing in MRI, Image Fusion, CAT Scan, Radiation Simulation, Planning and Treatment. Our Advanced linear Accelerator can delivery SRT, IMRT and 3D conformal treatments with an array of photon and electrons energies. Our on board Imager (OBI) gives our hospital the ability to delivery pin point accurate curative and palliative radiation treatments. These treatments can be adjusted in real time with millimeter accuracy.
Garden State Veterinary Specialists is staffed with one of the most experienced oncology teams in the country. Michele Cohen, DVM, MS, Medical Oncologist, Radiation Oncologist, Seth Glasser, DVM, Medical Oncologist, Hayley Ashworth, BVSc, MS DACVR (Radiation Oncology) and David Simmons, CMD, RT.
Our Radiation treatments can be delivered in as few as one day to 6 weeks depending on your pet's needs. At GSVS, we have an in-house, state of the art, Elekta treatment planning system. This means we can usually start planning or radiation treatments on your pet within the same day or the next day eliminating needless wait times.
GSVS is a specialty hospital. This gives our clients the ability to meet with our surgery, medical oncology (Chemotherapy), or radiation therapy departments all in one place so we can determine the best care for your pet.
A cancer diagnosis can be scary and treatment options confusing. Feel free to schedule an appointment with one of our specialists so we can help guide you through this difficult and trying process. Call today, 732-922-0011.
Types of tumors treated:
Oral Melanomas
Squamous cell carcinomas
Fibrosarcomas
Plasmacytomas
Acanthomatous ameloblastomas
Adenocarcinomas
Nasal Tumors
Brain tumors

Meningiomas
Pituitary Tumors

Thyroid Tumors
Extremity Tumors

Osteosarcomas
Soft Tissue Sarcomas
Fibrosarcomas
Infiltrative Lipomas
Mast Cell Tumors
Spinal Tumors

Pelvic Canal Tumors

Anal Gland Adenocarcinomas
Bladder Tumors
Prostatic Tumors