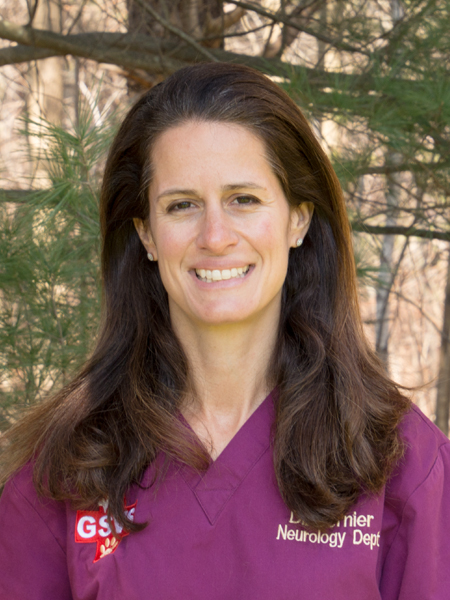 Dr. Noemie Bernier, a native of Montreal, Canada, has been a board certified staff neurologist/neurosurgeon with GSVS since 2001. Noemie…
Neurology/Neurosurgery at GSVS
At Garden State Veterinary Specialists, our Neurology/Neurosurgery department uses a multi-disciplinary team approach in every patients' care providing advanced veterinary diagnostics and treatments. We offer on-site MRI and CT scanning which permits our patients in need of surgery and/or other diagnostic tests to have these procedures performed within the same anesthesia. This process also allows our patients to benefit from the availability of each departments' expertise. Our Emergency/Critical Care team is available to see Neurology patients 24 hours/day, 7 days/week, 365 days/year. They are available to work in tandem with our Neurology/Neurosurgery team and our other specialty teams, if needed.
The GSVS Neurology/Neurosurgery team is available 6 days a week, including Saturdays, for the evaluation of seizure disorders, behavioral changes, blindness, compulsive circling, vestibular signs, cerebellar signs, neuromuscular disorders, cranial nerve deficits, spinal cord signs, ataxia, paresis and sleep disorders. They perform neurological consultations/rechecks daily by appointment and offer a same day referral report to your referring veterinarian. MRI reviews are welcomed.
MAGNETIC RESONANCE IMAGING (MRI), General Electric 1.5T
The MRI is our most sensitive diagnostic technique for the evaluation of nervous system pathologies. Our on-site MRI works on an in-patient or out-patient basis. We use inhalant anesthesia and close anesthetic monitoring performed by GSVS qualified staff. Additional diagnostic and surgical procedures may be performed within the same anesthesia. We offer a same-day report and copy of the MRI on CD-ROM. Available 7 days a week.
COMPUTED TOMOGRAPHY (CT)
Our on-site CT unit is available daily for the evaluation of head trauma, acute Hansen Type I disc herniation, lumbosacral disease, cervical malformation-malarticulation syndrome, as well as evaluation of the skull, bullaes, and axial skeleton and 3-D radiation planning. It is operated on an out-patient or in-patient basis by GSVS qualified staff. We use inhalant anesthesia and close anesthetic monitoring performed by GSVS qualified staff. Additional diagnostic and surgical procedures may be performed within the same anesthesia.
NEUROSURGERY
Emergency Neurosurgery
Spinal Surgery: Disc herniation (Hansen Type I & II), cervical malformation- malarticulation (Wobblers syndrome), altlantoaxial malformation, spinal fracture and luxation, spinal neoplasia.
Brain Surgery:  brain tumors, ventriculoperitoneal shunting for hydrocephalus, head trauma.
Nerve & Muscle Biopsies
PERCUTANEOUS LASER DISC ABLATION
Garden State Veterinary Specialists is now proud to offer Percutaneous Laser Disc ablation as an adjunctive treatment for intervertebral disc disease. This procedure is a minimally invasive way to treat at risk dog breeds who have experienced an intervertebral disc herniation, treated either medically or surgically. The aim of the procedure is to ablate (or remove) the central part of the intervertebral disc (nucleus pulposus) to decrease the risk of it herniating into the vertebral column causing pain, spinal cord compression, inability to walk, or in severe cases inability to feel the limbs.
Dogs who are at risk for developing an intervertebral disc herniation based on genetic factors may also be considered candidates for the procedure.
Chrondrodystrophy is a term used to describe dogs with short legs and a long body, and is associated with a genetic variation within the functional fibroblast growth factor 4 (FGF4) gene. Mutations not only lead to the phenotype (appearance) of these dogs, but also causes premature degeneration of the intervertebral disc, causing calcification of the nucleus pulpsosus, thus predisposing such dogs to a Hansen's type I intervertebral disc extrusion. Breeds identified with this variant include Dachshund, Beagle, Basset Hound, French Bulldog, Bichon Frise, Miniature and toy poodle, Corgi, Shih Tzu and several others.
The procedure is performed by both of our board certified veterinary neurologists/neurosurgeons. If you are interested in learning more about the procedure please schedule a consultation with one of our neurologists.
ELECTRODIAGNOSTICS
Electromyography (EMG) – Motor neuron diseases, brachial/lumbosacral plexus disorders, polyneuropathies, mononeuropathies, myopathies.
Single Fiber EMG
Nerve Conduction Velocity (NCV): sensory & motor– Motor and sensory neuropathies, brachial/lumbosacral plexus disorders.
Repetitive stimulation – neuromuscular junctionopathies.
Brain Auditory Evoked Response Test (BAER) – congenital deafness, brain death
NEUROLOGICAL EMERGENCY
Ventilator
Pulse oximetry
Blood gas analysis
Blood pressure monitoring
In-house bloodwork capabilities
Medical neurological emergencies
Diagnostic imaging
Critical Care Specialist on staff 7 days a week
In-House imaging capabilities (CT & MRI)
Neurologist on staff 6 days a week
On-Call Board Certified Surgeon

NEURO-ONCOLOGY
Chemotherapy
Surgery
Radiation Therapy (Linear accelerator, 3-D planning)