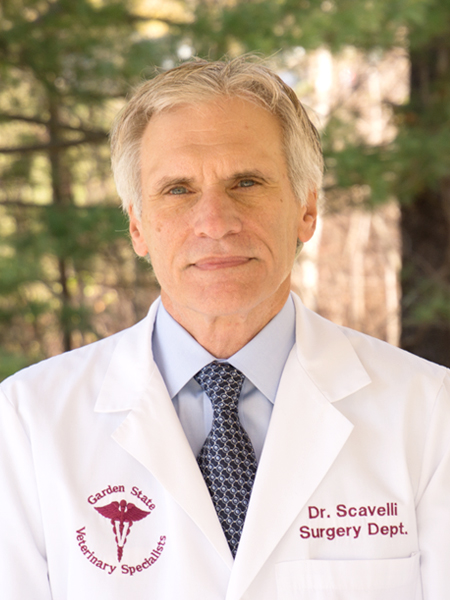 HERE WHEN YOU NEED US
A
s a veterinary student, Dr. Scavelli had a 
vision to create a referral only specialty practice. His plan for the practice was to bring together a group of specialists who would work as a team to provide the highest quality of veterinary medicine to the referred patient. His concept was unique at the time since his philosophy for the hospital was to follow 
a strict "referral only" policy for non-emergency 
patients. In this specialty hospital, patients would have the benefit of consultations with veterinarians from multiple specialties and have available to them state of the art diagnostic equipment. In 1994, while a resident of Staten Island, Dr. Scavelli opened
Garden State Veterinary Specialists (GSVS)
in Tinton Falls, New Jersey.
GSVS
grew quickly in response to the growing demand for community based specialty medicine and the need for a hospital which could provide 24/7 veterinary medical care. In 2012, Dr. Scavelli also established a Hospital in Iselin, New Jersey.
Garden State Veterinary Services
 provides Urgent Care and appointments with Specialists to patients in Middlesex County and the surrounding areas. In 2016, Dr. Scavelli opened a 24/7/365 emergency/critical care hospital in Staten Island, New York.
Greater Staten Island Veterinary Services
has now expanded its services to include appointments with specialists in the fields of Cardiology and Surgery. Patients of our affiliated hospitals benefit from the expertise of our specialists through inter-office collaboration on difficult cases.
Thomas D. Scavelli, DVM, DACVS
Michael G. Hoelzler, DVM, DACVS
Ryan Fulcher, DVM, DACVS
Roelof Irausquin, DVM, DACVS
Leah Park, DVM, DACVS
JoAnn DeMarco, DVM, DACVIM
Jason Pintar, DVM, DACVIM
Alicia Kay Henderson, DVM, DACVIM
Katherine Palmer, DVM, DACVIM, DACVECC
Ron Achiel, DVM, DACVECC
Michele Edelmann, VMD, DACVO
Kenneth E. Pierce, Jr., DVM, MS, DACVO
Noemie M. Bernier, DVM, DACVIM (Neurology)
Rebecca McBride, DVM, MS, DACVIM (Neurology)
Jordan Schachar, DVM, DACVIM (Neurology)
Christian Woelfel, DVM, DACVIM (Neurology)
Ian B. Spiegel, VMD, MHS, DACVD
Zijin Zhou, DVM, DACVD
Michele Cohen, DVM, MS, DACVIM (Oncology), DACVR (Radiation Oncology)
Seth Glasser, DVM, DACVIM (Oncology)
Hayley Ashworth, BVSc, MS DACVR (Radiation Oncology)
Daniel Lantz, VMD, DACVR
Ryan Keegan, DVM, DACVIM (Cardiology)
Jonathan C. Goodwin, DVM, MS, DACVIM (Cardiology)
Andrew J. White, DVM, DACVIM (Cardiology)