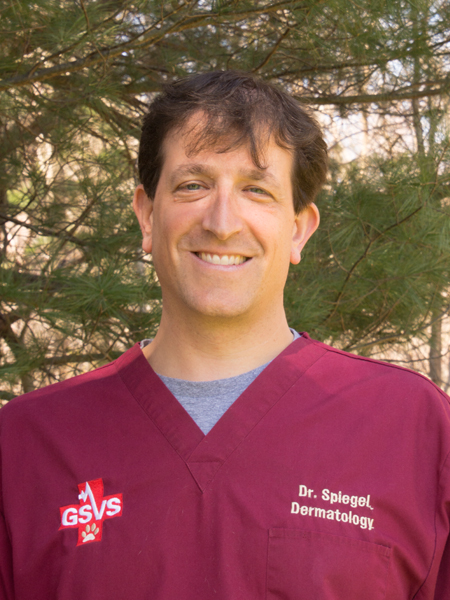 Dr. Ian Spiegel is a boarded veterinary dermatologist who, along with his experienced team of veterinary dermatology technicians has been working in the New Jersey area evaluating and treating dermatologic…
Your Pet's Appointment:
What to expect during the appointment:
Welcome to the GSVS Dermatology and Allergy Service. If you have already made an appointment, we look forward to working with you and your companion animal very soon. If you have not booked an appointment yet, but would like to do so, please call 732-922-0011. Our goal is to provide the highest quality of care while meeting or exceeding all of your expectations. We are primarily an outpatient service and perform most of the diagnostic tests during your appointment. In select cases, your companion animal may need to stay at the hospital for a few hours or return at another future scheduled time. We try to address the problems of each individual patient without compromise, which means that your appointment may take longer than what you are accustomed to at your primary veterinarian's hospital or with other services. We obtain a detailed history, perform a dermatological physical examination, provide an in-depth explanation regarding underlying causes for your pet's condition, and provide discharge directions for you regarding the use of provided medications/products.
What to bring to the appointment:
Previous veterinary records and/or referral forms from your primary veterinarian
Previous laboratory results (e.g., blood work, urinalysis, imaging reports, cytology reports, biopsy reports, cultures)
Records/proof of vaccination or reason for exemption
Bottles of oral medication(s) that your companion animal is currently receiving or has recently received (prescribed and over-the-counter products)
Containers of any topical creams, lotions, shampoos, etc. (prescribed and over-the-counter products)
Food labels (if possible) or print-out with the nutritional information/ingredients
Heartworm prevention, flea/tick prevention- containers or note the brand and if flavored
Details regarding the appointment:
It is best to arrive 15-20 minutes before your scheduled appointment to allow for paperwork to be completed.
Initial examination appointments are scheduled for 45-60 minute time slots.
Re-examination appointments and "Allergen start-up Exams" are scheduled for 30 minutes (level 3 nurse visit), and suture removal appointments and nurse visits (level 1-3) are 30 minute time slots (nurse appointments).
While we will do everything possible to get you in-and-out in a timely fashion, we provide every patient with individual and personalized care, which may in turn lead to slightly longer appointments and/or wait times (including procedures).
Procedures that will take longer than an hour will likely be performed in the late morning or early afternoon and/or pre-scheduled time (e.g., skin testing, ear flushes, biopsies).
Please DO NOT give your companion animal a bath for at least 7 days prior to your scheduled appointment.
Dermatology at GSVS
Garden State Veterinary Specialists has an experienced dermatology and allergy service. Dr. Ian B. Spiegel is a boarded veterinary dermatologist who has been managing patients and working with many referring veterinarians in New Jersey since 2005. Dr. Spiegel, along with Dr. Zijin Zhou and his experienced team of veterinary dermatology technicians, look forward to helping you and your pet. Dr. Spiegel and Dr. Zhou concentrate on the diagnosis and treatment of skin disease, ear disease, and allergies. The dermatology and allergy service receives patients by appointment on Tuesdays and/or Fridays and/or occasional Saturdays.
Dr. Spiegel specializes in the diagnosis and management of diseases affecting an animal's skin, ears, feet, hair coat, as well as allergies. Dr. Spiegel has a great deal of experience in treating all aspects of skin disease, ear infections, and allergies. The dermatology and allergy service will strive to provide the highest quality of care for your companion. Many patients require long-term follow-up and care, so a relationship with excellent communication is very important. The dermatology and allergy service looks forward to helping you and your companion animal, as we understand how frustrating skin and ear conditions can be for both you and your pet.
The dermatology and allergy service diagnoses and treats a wide array of conditions, such as:
Ear disease (otitis)
Bacterial skin infections
Yeast (Malassezia sp.) infections
Ringworm infections
Food Allergies
Environmental allergies (atopic dermatitis)
Endocrine/Metabolic disease
Alopecia (hair loss)
Itching (pruritus)
Flea allergy dermatitis
Auto-immune skin disease
Adverse drug reactions
Recurrent rashes and hives
Genetic and congenital skin diseases
Pododermatitis (foot disease)
Nail and/or footpad disorders
Hot spots (acute moist dermatitis)
Skin cancer/tumors
Parasitic skin diseases (e.g., mange)
Tick, lice, mite, and flea control
The dermatology and allergy service uses several diagnostic tests, such as:
Allergy testing (skin and/or serology)
Skin biopsies/mass removals
Skin scrapings
Hair plucks
Trichograms
Tzanck preparations
Impression smears
Surface skin cytology
Otic exams
Ear cytology
Ear and skin cultures
Tissue samples (biopsies)
Fungal cultures/preparations
Wood's lamp exam
Blood work (general and endocrine)
Fine needle aspirates
Diet trials/elimination diets
Advanced imaging (CT, radiographs,
MRI, ultrasound)
The dermatology and allergy service performs many procedures, including:
Skin mass removals (local anesthesia)
Allergen specific immunotherapy (allergy shots)
Anal sac expression
Pedicures
Dr. Spiegel and his experienced, compassionate, and knowledgeable staff will work very closely with companion animal owners and referring veterinarians in order to provide timely updates on the status of pending diagnostic results and will discuss in detail, the numerous therapeutic options for each patient. Dr. Spiegel will provide a full report of each visit to your primary veterinarian and will compliment the already high level of expertise and care that you receive from other GSVS clinicians.